CIFF: East comes West as Newfoundland sensation Donnie Dumphy brings debut film to Calgary
September 21, 2014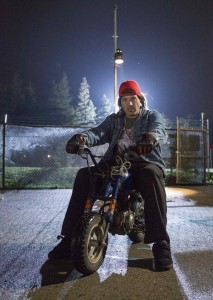 At the risk of reinforcing stereotypes, it seems that Newfoundland expats like to bend the elbow when having a good time at a film festival.
Director Nik Sexton and actor/musician Leon Parsons, aka Donnie Dumphy, screened their debut film How to Be Deadly at the Atlantic Film Festival a week ago in a theatre that had a killjoy no-alcohol policy.
It didn't make a difference.
"In Halifax, you could hear the clink, clink, clink," said Sexton, outside the Globe Cinema Saturday night,  where How to Be Deadly screened as part of the Calgary International Film Festival. "They were just sneaking them in anyway."
So Sexton and Parsons were delighted to learn that the Globe had a license to sell alcohol for screenings after 6 p.m., nicely liquor-lubricating the crowd and adding to the midnight-madness vibe of Saturday's festivities.
Article by Eric Volmers, Calgary Herald.
To read the full article, please click here.