Dumphy havin' a time on festival circuit, wins AFF fan favourite
September 24, 2014
Local film "How to be Deadly" has been named the winner of the 2014 Atlantic Film Festival's Audience Award for Best Feature.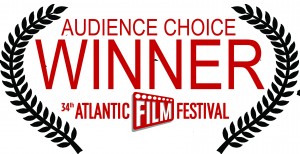 Directed by Nik Sexton, the film stars Leon Parsons as Donnie Dumphy — a YouTube sensation before the film was made — in a cast that also includes Susan Kent, Rick Mercer, Cathy Jones, Andy Jones, Mary Walsh, Gina Squires and Dan Bochart.
"How to be Deadly," co-written by Sexton and Edward Riche, was filmed in St. John's last summer. It beat out 80 other eligible films for the audience-voted award, and the film festival says it was a tight race between "How to be Deadly," "Lure," and "Relative Happiness," a film directed by St. John's filmmaker Deanne Foley.
"How to be Deadly" premiered at the Atlantic Film Fest and screened at the Calgary International Film Festival earlier this week.
Article by Tara Bradbury of The Telegram.